As summer gets into full swing, I usually plop myself in my front yard and plant some pretty flowers. As I was weeding, the other day, I remembered something that happened last year, upon the occasion of my planting ritual.
Our drive is well off the main road, with only two houses on it, and so it's rare that people randomly drive up to the top of our hill. Bruce and I were both in the yard, doing some planting and mulching. And then, we heard it... at first it was distant, and then we realized it was coming up our driveway! We could hear the tinkling bell song,
You Are My Sunshine
, playing over and over, getting progressively louder.
It was the Ice Cream Man!!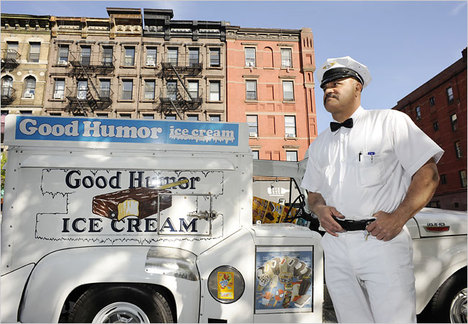 For 25 years we'd been waiting for him
. When the kids were little, they'd hear the song, and jump and squeal ...
"It's the Ice Cream Man"
. They'd be very excited, and hopeful, but he never came up our drive. And by the time we'd grab our quarters and try to run down to the road to catch him and buy the frozen delights, he'd be gone. So the tinkling song became an empty hope.
But this day, a brave and curious man drove up our long driveway. When he saw it was just us, and we just stood there staring at him, and he realized that he'd driven up a driveway, he got very uncomfortable, and tried to sneak away.
BUT, after 25 years of waiting we couldn't allow that.
HOWEVER, we weren't ready! We didn't have any money on us to buy anything, and just sort of stood there gaping, thinking,
'He finally came, and we weren't ready!'
So, we didn't get any ice cream that day. But Bruce did stop the guy and talked to him and told him we'd been waiting 25 years for that moment. He told the fella we couldn't buy anything from him, but asked if he could pray for him about anything.
;~D
The guy speedily drove away. Hasn't been back since.